The Winter Fortress: The Epic Mission to Sabotage Hitler's SUperbomb
Author: Neal Bascomb
June, 2016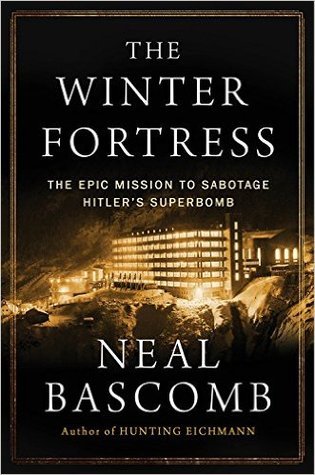 "You have to fight for your freedom, and for your peace. You have to fight for it every day, to keep it. It's like a glass boat; it's easy to break. It's easy to lose"- Joachim Ronneberg
The resistance work done by the Norwegians was one of the most important contributions to sabotage the German efforts to produce an atomic bomb. The heavy water plant located in Vemork, on which the Germans relied heavily, for their supply was sabotaged successfully by the Gunnerside team lead by Ronneberg. Lief Tronstad, who did heavy water research and played instrumental role in building up of heavy water plant in Vemork, also contributed to vandalize it, even at the cost of his countrymen. Tronstad said to his students " Technology first, then industry and applications!" to build up the heavy water plant, and he also commandeered his fellow countrymen to destroy the high concentration cells that produced the precious heavy water. He gave up his life to make sure that the German retreat does not cause huge economic implications to Norway.
Mixed with many such short stories of lives of the freedom fighters, their hardships, their small battles, loneliness, and above all their love for the country, The Winter Fortress is an enriching read. For obvious reason the part related to Heavy water industry attracted me to the book but then there were many other reasons to cling to it and finish it almost in one go. The book also forces you to think about the roles that scientist played during that era. Was it Heisenberg vs Diebner that delayed German plans or were they on completely wrong track to ignore graphite as moderator that Fermi pursued, one can always argue. But, none of that will undermine the fact that heavy water for crucial for the research and disruption in its supply surely helped the allies.
A worth read if you are looking for a strong and moving story during the WWII times – easy to read and deep enough to absorb.
Share:
---
Add Comment: